Event Planning and Party Planners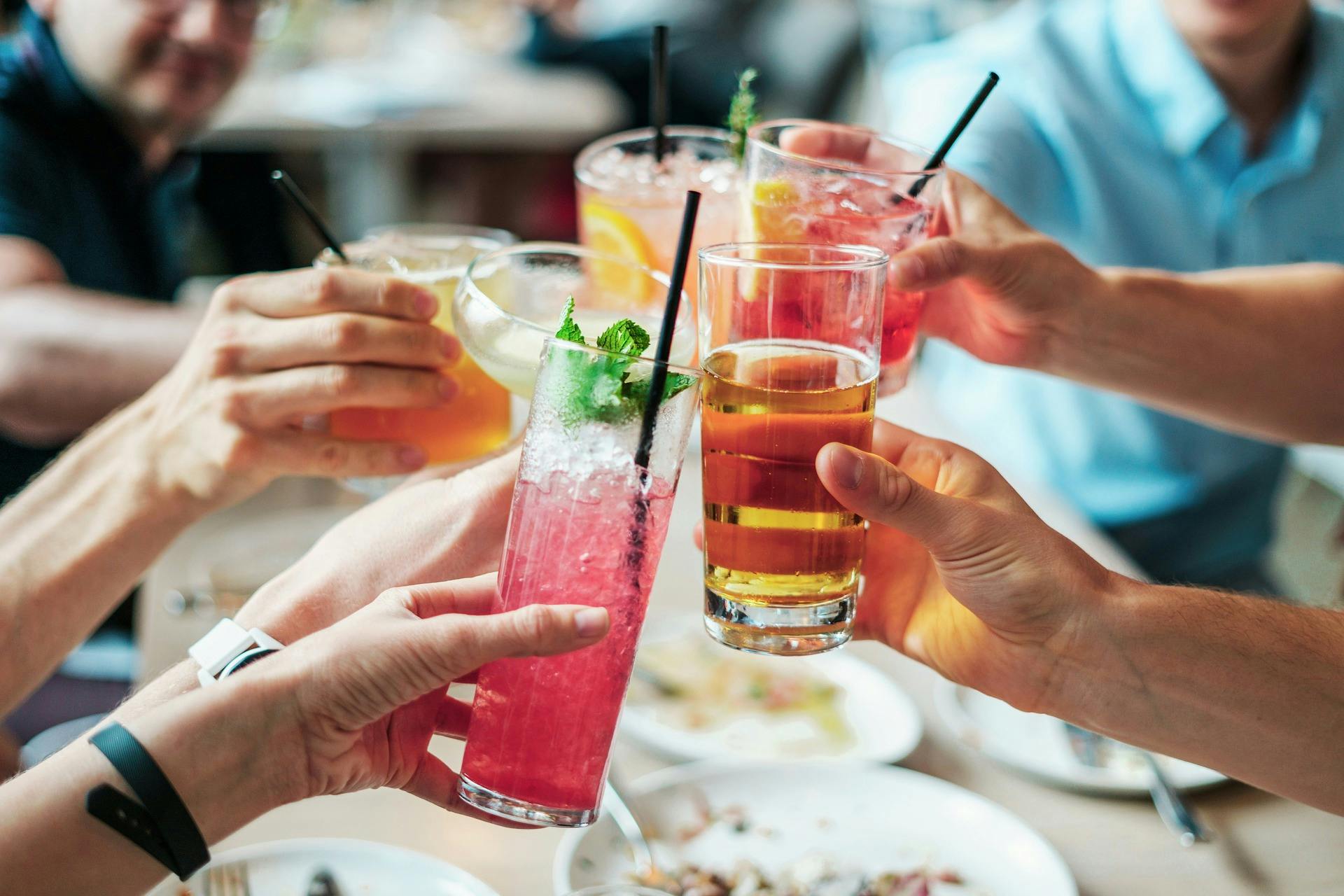 Planning a Party? Let Argonaut help! We employ a team of amazing party planners to make sure you have the right wines, beer and liquor for your party.
We stock over 15,000 types of beer, wine and spirits and cater to any budget. We can also special order products just for you.
To learn more about our party planning services, please fill out the form below. A professional party planner will get back to you as soon as possible. If you would like to meet with a party planner in person or speak to one on the phone, they are available in the store Saturday and Sunday from 9:00 am - 4:00 pm. Please call or email info@argonautliquor.com to schedule an appointment.

---
Here are basic guidelines as to how many servings are in each type of bottle for each type of alcohol if you would like to plan some of the amounts on your own.
Liquor 1.5oz servings per bottle
| Bottles | 1 | 2 | 4 | 6 | 8 | 10 | 12 |
| --- | --- | --- | --- | --- | --- | --- | --- |
| 750ml | 16 | 33 | 67 | 101 | 135 | 169 | 203 |
| 1 liter | 22 | 45 | 90 | 135 | 180 | 225 | 270 |
| 1.75 liter | 39 | 78 | 157 | 236 | 315 | 394 | 437 |
Wine 5oz servings per bottle
| Bottles | 1 | 2 | 4 | 6 | 8 | 10 | 12 |
| --- | --- | --- | --- | --- | --- | --- | --- |
| 750ml | 5 | 10 | 20 | 30 | 40 | 50 | 60 |
| 1.5 liter | 10 | 20 | 40 | 60 | 80 | 100 | 120 |
| 3 liter | 20 | 40 | 80 | 120 | 160 | 200 | 240 |
| 5 liter | 34 | 68 | 135 | 203 | 270 | 338 | 406 |
Beer
| Size | Servings |
| --- | --- |
| Case | 24 |
| 5 Gallon Keg | 50 |
| 8 Gallon Keg | 80 |
| 13 Gallon Keg | 130 |
| 16 Gallon Keg | 160 |
Questions to Consider:
How many people?
How long is your event?
What is the time of the party?
Will there be food?
What is your budget?
Do you need mixers and ice?
How many bars are there? Open or Cash bar?
Full bar or just beer/wine?
Other Considerations:
2 drinks per person in the first hour
1 drink per person every hour after (Max 4/person)
For Sit down dinner: Estimate at least 2 ½ glasses of wine per person
For Champagne Toast, estimate 10 servings per bottle or 120 per case
Ice

If serving wine liquor and beer: 2 lbs per person.
If serving only wine and beer: 1.5 lbs per person.

Soda

50 people = 3 coke, diet, 7/up
100 people = 2 of each for every 50+

Tonic/Club Soda same as Soda
How Much to Buy
If Serving Beer, Wine & Liquor:
40% Liquor
35% Wine
25% Beer
Hints
Liquor: A standard bar will typically have vodka, gin, bourbon, scotch, and rum. Vodka is usually the most popular, rum the least. People tend to drink darker spirits when it's cold.
Event Policies
Return Policy
There is no time limit on when merchandise has to be returned. We would prefer that you return within 30 days of your event. We will give you a full refund on any merchandise as long as it is in re-sellable condition. All labels and seals must be intact and beer must be a full package in original packaging (i.e. full 12 pack in correct packaging). If you return more than 30% of your original order we will charge a restocking fee. The restocking fee is 10% of the net merchandise returned. You may bring the merchandise back to the store yourselves to receive refund. You may also schedule a pick up for our driver to come out and pick up the merchandise the following day from a designated location. The pick-up fee is equal to delivery fee.
Payment Policy
We do not have contracts. We ask that payment in full be made a least 48 hours before your delivery is to occur. We assume that payment in full is acceptance of your order as shown on final estimate. We accept cash, Visa, Mastercard, Discover and American Express. Please confirm all orders and payments with Argonaut staff a minimum of 48 hours prior to the event.
Delivery Policy
We charge a $10.00 delivery fee for deliveries 15 miles or less from the store. If delivery location is further than 15 miles a delivery fee of $15 will be assessed. We will give you a one-hour window of when our driver will arrive. We will have all items that require chilling cold at time of delivery, if requested. Our driver will deliver merchandise to the location of the bar set up. He/she will check in all items with delivery contact. Person signing for order must be 21+ years old to accept delivery. We will ask to, by law, record their ID information at time of delivery. Our driver DOES NOT set up or unpack your order. Delivery hours are from 9:00am – 9:00pm
Product Availability
Depending on when you confirm your order and current on hand inventory we will do our best to make sure your product arrives on time for your event. This can be beyond our control sometimes. In case a last minute substitution needs to be made, we will contact you to make arrangements. If we are unable to contact someone to arrange a substitution we will always substitute a higher quality product for the same price.
For Event Planning inquiries email – info@argonautliquor.com
Event Planners

Jennifer Lyons – Office Manager
Originally born in New Jersey, Jen moved to Colorado in June 1998 for a new adventure. She has found her adventure in her career with Argonaut. Jennifer has been working with us since November of 1999. She has been an event planner since day one. With over 18 years of experience in the liquor industry, and a background in corporate retail management, she has built an extensive network within the Denver catering and liquor market. Her knowledge and experience allow her to make your liquor purchase as easy as possible. As the Office Manager, she oversees all catering sales and daily store business. She works closely with all of our distribution partners and buyers to ensure accuracy with our inventory and pricing. She has been a TIPS Trainer for 13 years and is also a certified CLBA Responsible Vendor Trainer for the store. During her time off she enjoys camping with her husband, two kids and two dogs.
Cami Shaffer
Cami has been with Argonaut for 5 years now and her favorite part of her job has been helping people plan their events. Cami began event planning in 2015 and has helped hundreds of customers plan weddings and special events ever since. She especially enjoys getting to work closely with customers to make sure their event runs as smoothly as possible.


Page Shipley
Page has been with Argonaut since 2017. She moved to Colorado last year to camp and hike the entire state. She has #goals! She is a lover of craft beer and fine whiskey. She thrives on organization and planning. She has a degree in Interior Design and is full of ideas and creativity and is always planning her next craft project. She is a former Ohio State Science Fair Finalist, so not only is she crafty she is a nerd at heart!


Carys Woronov
Carys@argonautliquor.com Originally from Rhode Island, Carys moved to Colorado in 2009 and has loved every second of being here. She began event planning this year and enjoys creating a personalized experience for clients for events and weddings to make the experience as easy and enjoyable as possible. In her spare time Carys enjoys trying all of the beers Colorado has to offer and camping/hiking with her friends.